Still a Golden Opportunity to Buy Gold Shares?
The following article from Peter Zihlman of the P. ZIHLMANN INVESTMENT MANAGEMENT AG and appeared yesterday on the Gold Eagle website:
The AMEX GOLD BUGS INDEX (HUI):
Still a Golden Opportunity to Buy Gold Shares?
Follow-up No. 6
Peter Zihlmann

The Long-term Picture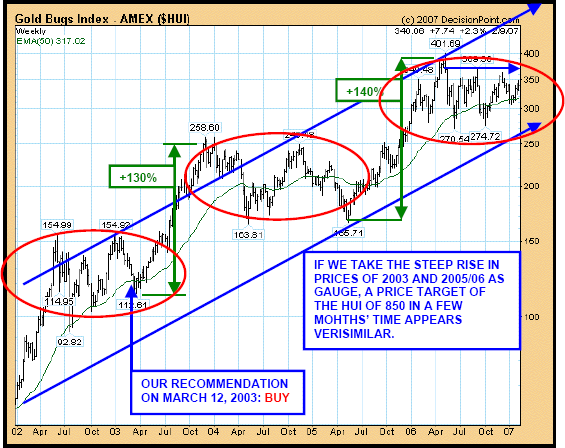 The two lengthy consolidation periods within this solid long-term up-trend shown in the chart above in red circles reveal in fact striking similarities. One similarity e.g. is the surge of the Index by more than 100% before the inevitable movement of consolidation began.
If the past is admitted as a guide to the future, we can deduce how far the market may rise during the up-swing which is currently in the making.
Investors who have been waiting for almost a year to see their purchase prices again, have a tendency to get out once they can get out even and often miss for this reason the ensuing chance to make a substantial profit.
"Therefore, we should keep our fears in check and ask ourselves without emotions where the market may lead us. In our opinion, it is of course only possible to indicate a range within which this movement could end, and we would place our Index target between 350 points as a minimum and 430 points as a maximum before a further consolidation phase starts.", we wrote on September 20, 2005, while the Index stood at 237 point. As we now know the Index did in fact peak at 401 points.
As we are in similar situation as in September 2005, we venture at present to set new target range, namely of 680 to 850 points.
The Medium-term Picture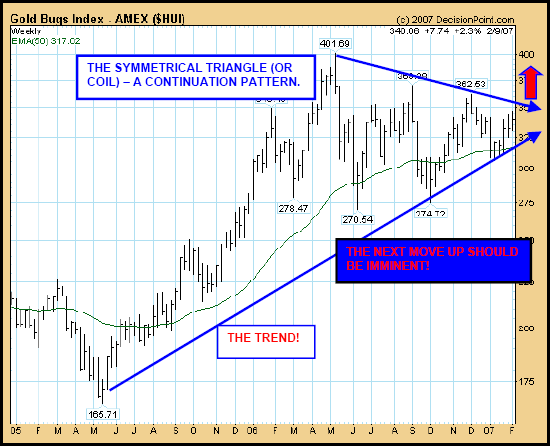 The symmetrical triangle, which can also be referred to as a coil, usually forms during a trend as a continuation pattern. The pattern contains at least two lower highs and two higher lows. When these points are connected, the lines converge as they are extended and the symmetrical triangle takes shape. You could also think of it as a contracting wedge, wide at the beginning and narrowing over time.
While we may have to wait a little while till the Index jumps out of the triangle, we believe that purchases of selected shares should not be deferred.
The Short-term Picture
This short-term up-trend started early this year suggests that the market may have a bit of resistance to overcome before it will take off decidedly.
It may however prove to be expensive to wait for a short-term correction as, first, we are in a secular bull-market and, second, we are just coming out of a lengthy consolidation which is drawing to its end.
In the 1970s, the most admired technical analyst was Joe Granville. In fact, for a brief period of time Granville's buy and sell signals would move the US stock market - at least temporary. Granville's demise as a market guru then followed. In 1982, he failed to realize that a secular bull market in bonds and stocks had begun and remained bearish.
There are many ways to participate in this unfolding next leg up in the secular bull-market of precious metals and the corresponding shares. One way of course is to simply buy the industry's leader, like Newmont Mining, shown in the chart below. You would have made 270% if you bought at the bottom.
Medium sized companies and juniors however offer a lot more leverage to the gold price but are also riskier.
Another way of participation is through an investment fund that primarily invests in mid-sized and junior companies like THE TIMELESS PRECIOUS METAL FUND (+61% in 2006) .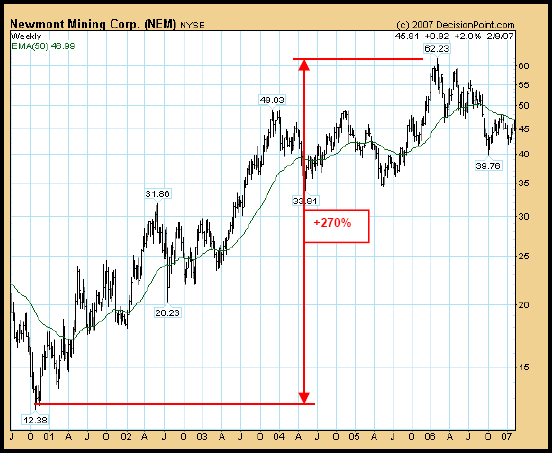 We also offer Portfolio Management services for clients who prefer to have their individually managed precious metals portfolios:
www.pzim.com
investment@pzim.com
invest@pzim.ch Tel.+41 44 268 51 10
Mobile +41 79 379 51 57

Labels: gold, HUI, mining stocks, Zihlman